Discount Prices on Archery Supplies Right Here
I got to take my little brother on his first turkey hunt this year.
I'm pretty sure he's about as lucky as they come!
He's now 9 and I've been taking him hunting with me whenever we get the chance since he was 6.
Fall of 2012 he was with me on a bow hunt when we got a 9 point
http://www.archerytalk.com/vb/showthread.php?t=1855812
That was the second hunt we went on that year.
The next spring I brought him turkey hunting with me.
Little something to note: me and turkey's don't get along very well. I have only ever bowhunted turkeys and I have yet to shoot a tom.
First year (2009) after bringing a friend for opener and having him nail a tom right away I thought turkey hunting was going to be easy. Boy was I ever wrong.
After chasing them around the rest of that season (we had 5 days that year) I miss judged the range and shot under a jake toward the end.
The next year after chasing them around for 6 day (7 day season) I shot a jake that crossed the river to me only to have a tom strut through less than 5 minutes later (1 bird limit).
Spring of 2011 I only had a few days to hunt and missed another two shots (high alert at jake and long shot at tom) and went turkeyless.
Spring of 2013 I brought my brother with me for the first time turkey hunting.
First day out we have a jake right in on the decoys that I shoot with him videoing. Walk back to get the truck and come back to find a tom struting 50 yards from the blind looking at the decoy.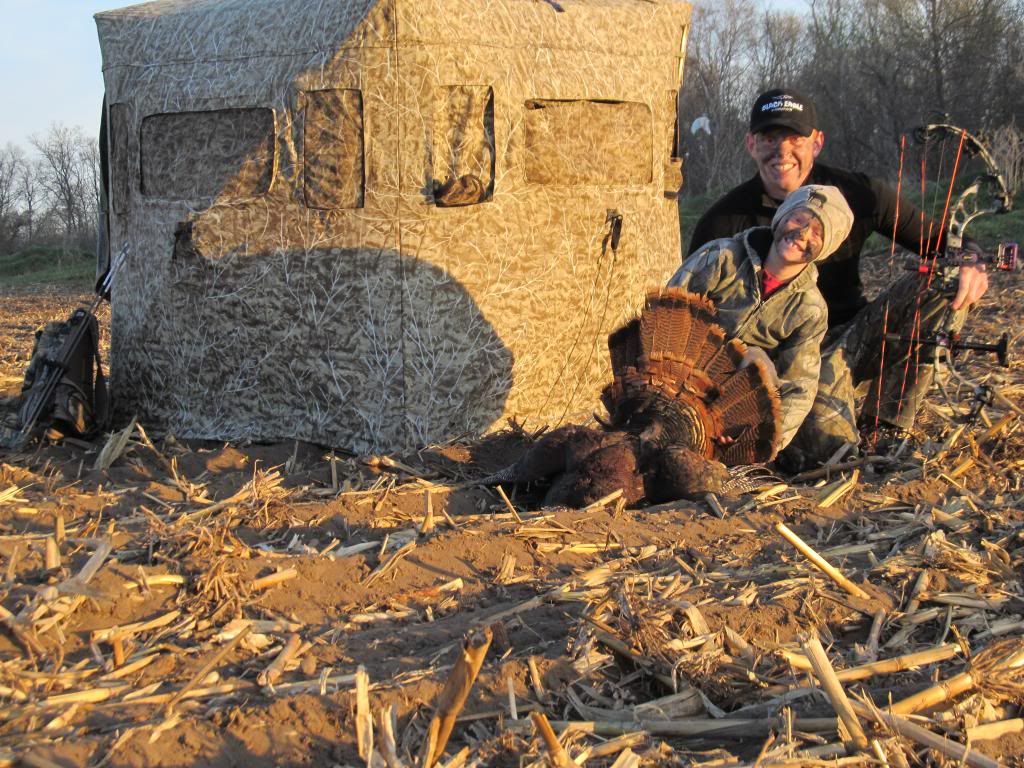 Fall of 2013 he is with me again for opener of rifle season and less than an hour into sitting and this guy steps out.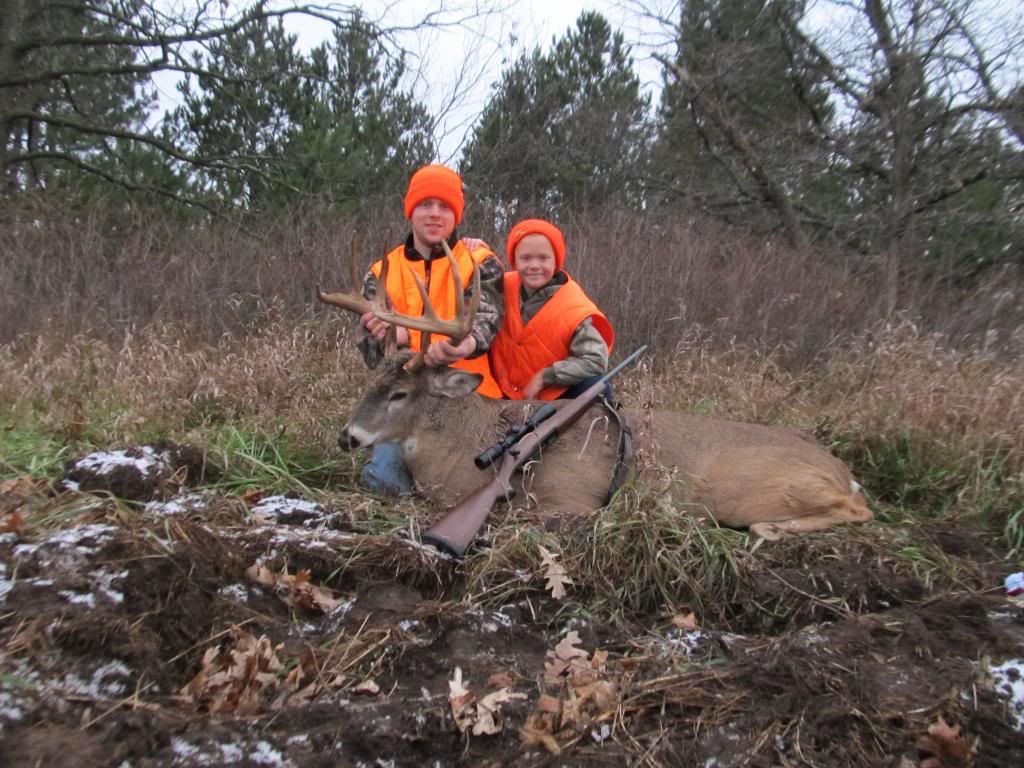 So when I found out he can turkey hunt this spring we were pretty excited to get out there.
Here a story he wrote for school:
"the twin turkeys
it was opening morning for Turkeys. me and Ben wanted to go out and get a big Turkey- maybe 2 across the road. we start to set up a blind. Ben thinks we'll get a turkey or may be two turkeys.
Ben started call for turkeys and we saw 2 nice Turkey me and Ben just got in position then a boooooom the Turkeys dropped TO the ground the end"
I thought he might be a little optimistic considering my past luck 😀
I get him set up with my 870 super mag with bird shot for some practice rounds and he does pretty good.
Finally have two days I can get home to bring him out, and go figure the weather is forecast to be rainy and windy.
Well had to hunt anyway since they were the only days I had, so I just hoped there would be turkeys in the spot I planned on hunting since I hadn't been able to scout at all this year.
We get out and set up in the field and as dawn is just breaking the toms start in. I was pretty pumped that there were birds in the area!
I did some cutting and yelps just to let them know where we were, but when they flew down it sounded like they were going away.
After about a half hour a couple yearlings does come out in the field and mess around some and we got to watch them. Then I noticed one of them looking off to our left so I looked over there and see a hen come out of the trees, followed by another hen. They are about 80 yards out and coming our way, so I'm checking to see if they might be bearded (he was shooting the first legal bird!)
While I was looking suddenly there is gobbling off behind the hens, sounded like more then one bird too!
One of the hens finally works her way into the decoy only to stop and stare at the blind for a long time (it was moving in the wind). I'm trying to make sure we don't spook her, when finally the toms start coming up over the hill about 100 yards out.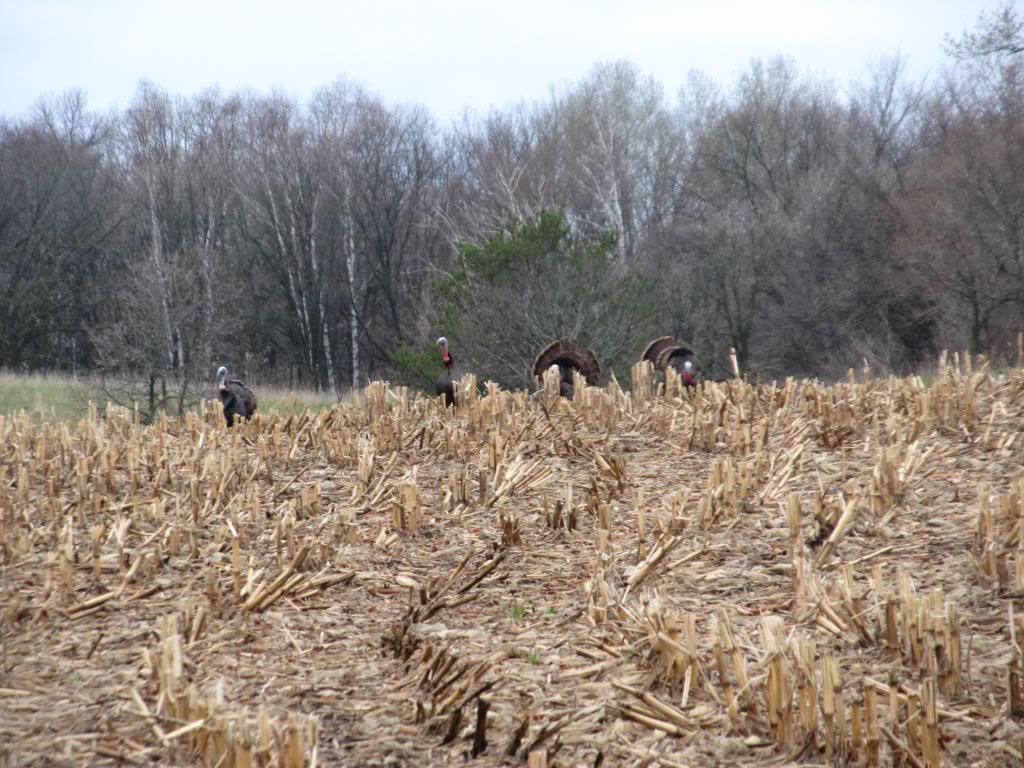 At this point I am stoked because it looked like they were all mature toms and they were headed our way! The hen was still staring at the blind and I keep telling my brother we can't spook her or the toms might spook too. She finally moves on and the toms keep coming in closer. I'm telling my brother to get ready, and he's telling me to get my bow ready. I'm like No, they are coming in wrong and the angle won't work. I just wanted him to get a shot. When the toms were about 50 yards out they see the decoy and start coming fast. It's at that point that I notice my brother got my bow and is like shoving it at me. So I'm like okay, maybe we will get a chance at a double, but he needs to shoot first. As they are closing the last few yards to the decoys I'm telling him to get ready, while at the same time drawing my bow and trying to not get in his way. Somewhere in the process I hear "PUTT" and they all go on alert and start fast walking out of there. "If you have a shot shoot!" I told him because I can see these birds aren't sticking around and I'm just hoping he doesn't miss.
BOOM!
Bird down! Wait, TWO birds down! And I'm left holding my bow drawn with no need to shoot!
Guess his story was right after all!
So now I get crap from him because I "still haven't shot a tom" 😀
One was 20.5 and the other was 19.5
Both had beards a little over 10"
The one had spurs that were an inch and the other 1 1/8" and 1 1/4"
I just have to keep telling him hunting isn't as easy as it always seems to be when he's along!
ArcheryTalk Forum: Archery Target, Bowhunting, Classifieds, Chat – Bowhunting and Bowhunter Showcases
Discount Prices on Archery Supplies Right Here