Discount Prices on Archery Supplies Right Here
Damned rain! I tried to do as much as possible today with the roof, but I'll have to wait until a better day…and have a helping hand. I could probably horse it up myself, but setting it and installing it correctly looks to be a pain.
Just like last week, I laid out all my materials (so I thought):
The front and rear 2"x4"'s are cut to 6′, as that's the OD of the vertical posts. The sides are 6′ 6", as the roof panels are 6′ 7" and I wanted some overlap front and back without having to trim them. I made sure they were square and attached them with 3" wood screws.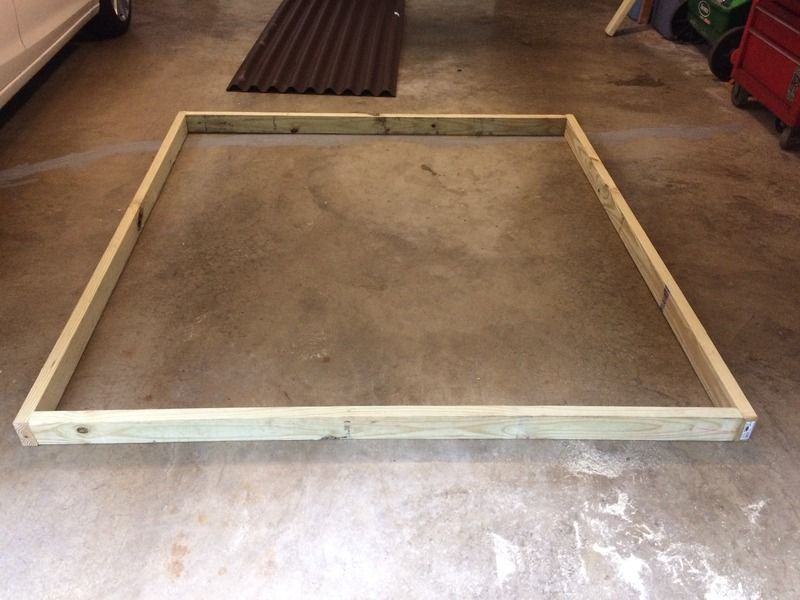 2-1/2′ from the front, I installed a 6′ long crossmember.
I laid the roofing panels out, but my math was off and two were not enough to cover. Went back to Home Depot and found out that A- they were/are on clearance and discontinued; and B- they showed 21 left in inventory but could not find them. Well, they had 69 at the New Freedom, PA store. Thank God for smartphones and the Internet. Lowe's had them. All of two. But I only needed one lol.
Came and laid them out, drilled pilot holes and installed the panels with the appropriate screws with rubber washers to prevent leakage.
I also cut two small blocks out of a 2"x4", with a ten degree slope so the roof is just slightly canted for drainage, but should not catch that much wind (didn't take a pic of that but will when it's time to hump the roof out to the target range). Once I have the roof balanced on those blocks and set in place, I'll drill the pilot holes and install with 5/16" lag screws, then cut two brackets out of 2"x4"'s to install between the sides and the vertical posts to the rear of the 4"x4" posts.
It's taken and is still taking some time, but it will be nice when it's finished. No more wet and faded targets.

ArcheryTalk Forum: Archery Target, Bowhunting, Classifieds, Chat – Bowhunting and Bowhunter Showcases
Discount Prices on Archery Supplies Right Here