Discount Prices on Archery Supplies on Amazon.com
I normally head to KS for the archery opening day, but this year drew an IL season 1 tag which started the same day so it would have to be week 2 before I made it this year. Because of several things, I had a day and half to make something happen before I had to head home and work for one day. That first day and a half hunt was not productive in terms of kills, but we had lots of jakes up close and a few toms just out of range. So, I drove the 6 hours home, went to work, then headed back. The first morning when I returned was just one of those days all turkey hunters look fwd to all year. The field I hunted the first couple days had been covered up with birds, but they were dispersing quick so we decided to walk into a place we hunted 2 years ago and set up where we sat then. We got all set up in the pitch dark and just as we were sitting down, birds gobbled close! Click the thumbnail for a short video of them gobbling as day breaks:
A little calling and they were definitely interested. Before long a couple was in the field with us strutting very slowly towards us. When a hen answered me in the woods, I kept at her until she got mad enough to come out and see what was up. She came right into the dekes and by this time a 3rd tom had joined the first two and they picked up the pace towards the real hen. Soon they were right in front of us, a few yards past the dekes trying to decide if they wanted to thump our strutter or jake, or follow the hen who had now lost interest.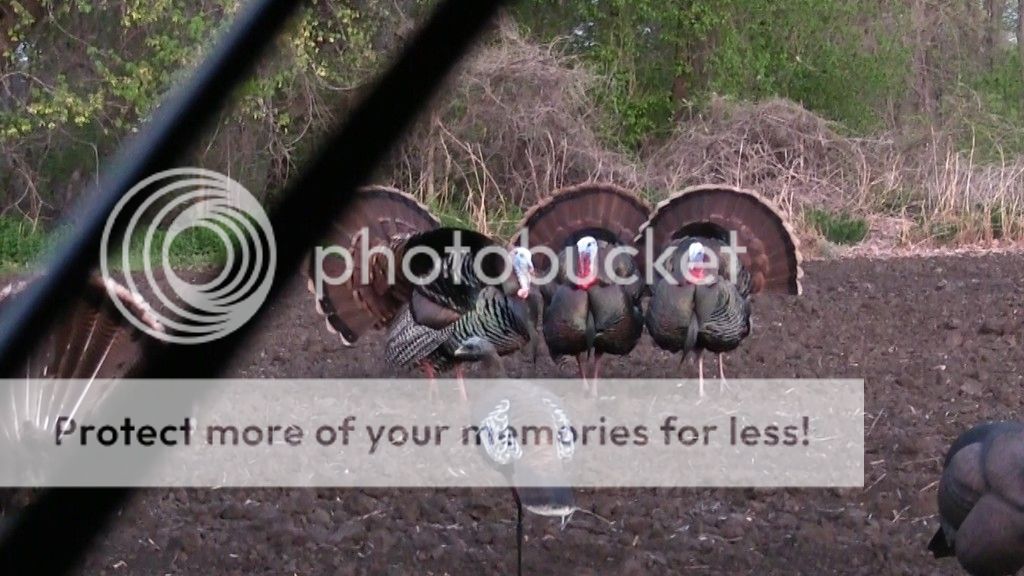 I like to let them come into the dekes and get a little video and watch the show myself, but I was pretty sure these 3 were gonna chase some real tail so it was time to let it fly. You can see the green lighted nock on track for a good shot.
His buddies and one more tom turned to enemies quick and were on him before he could even make it to his death bed off the field edge.
I don't get caught up in size when it comes to spring turkeys. To me, it's either a jake, or a tom and what the measurements are end up just being chance. I am not gonna pass up a bird with an 8 inch beard waiting for 10, or whatever. But this bird appeared to be the best of the 3, and it is one of my biggest ever. He was 25 lbs even, 11" and 4.25" beards, with 1.5" and 1 3/8" spurs. I hunted a couple more days and blew a chance at another bird as he turned to leave the dekes, taking off his beard and some chest feathers! 18 hours of driving in a few days for this turkey but I love it and I'll be back to KS before it all ends trying to get another.
Good luck to everyone else out there chasing birds. For those interested, I was using my Xpedition Xcentric and Hot Shot X-Spot release.

ArcheryTalk Forum: Archery Target, Bowhunting, Classifieds, Chat – Bowhunting and Bowhunter Showcases
Discount Prices on Archery Supplies on Amazon.com